Zev Yaroslavsky Committee Assignments Definition
Rivers & Streams
Fishing for L.A. River fans
Ansel Trevino, 12, recently reeled in a 10 pound carp on the L.A. River. Photo/Roland Trevino
It may not rival TV's Bassmasters, but Los Angeles is about to get a small taste of fishing glory.
This Saturday, advocacy group Friends of the L.A. River will host the river's first-ever fishing competition. Anglers will test their skills at traditional and fly fishing at 9 a.m. before handing things over for a family fishing session at 10 a.m. Rods and reels will be provided. All fish will be released, but not before conservation biologist Rosi Dagit categorizes, weighs and measures each one.
"I have no idea what these folks are going to pull out," said Dagit, who works for the Resource Conservation District of the Santa Monica Mountains. "Not much biological study has been done since the river was concrete-lined."
The competition offers a chance to expand on a 2008 study that took the first look at the river's aquatic life in decades, Dagit said. She expects to see species including carp, tilapia, black bullhead catfish and largemouth bass. Almost all are invasive, she said—native trout living upstream in tributaries haven't been found in the waterway since the 1940s.
Fishing in the river was prohibited before 2011, when changes in state law opened up the activity to people with a fishing license. Saturday, however, is a "free fishing day"—meaning no license will be required to fish.
Jim Burns, a local fisherman who runs an L.A. River fly fishing blog, remembers being chased out by law enforcement when he first started dropping his lines. He said things have come a long way in the past four years. "When I started, it took me like an hour to actually find the river and find a way to get access to it," Burns said.
These days, Burns sees more fish and more people. Plastic bag bans and cleanup efforts have made the water cleaner, and that's been good for all species. He's recently found reptiles, crayfish and plenty of fish, including an increasing number of white-sided bass, the exact identity of which remain a mystery to him.
That's where Dagit comes in. As the river's health continues to improve, she said there's a good chance that what's hooked Saturday will be different from what she found in 2008.
"It's an enormous watershed and it has the potential to support a large population of all kinds of native fishes if we clean up things, restore banks and improve water quality," Dagit said. "Fish are a touchstone to see how we are doing. They need cool, clean, oxygenated water. We've done a masterful job, but we've got a long way to go."
More than anything, Dagit and Burns hope the competition gets people out to enjoy the river with their families. That, they said, is critical to the waterway's future.
"People take care of things that they love, and they tend to love places that are special to them for one reason or another," Dagit said. "It doesn't get much more special than catching a fish with your kid on a Saturday morning in a beautiful place on the river."
To join the fun, head to North Atwater Park, 3900 West Chevy Chase Drive, at 8:30 a.m. this Saturday, September 6.
Our new social club—the L.A. River
Once banned from most of the L.A. River, kayakers are now a regular summer sight. Photo/StreetsblogLA
Most Angelenos know that the Los Angeles River is making a comeback. Still, the hipsters hawking free breakfast on its banks were a surprise.
Waving their arms and proffering scrambled egg sandwiches and muffins they'd cooked on a camp stove, the group of about a dozen young people were on the bike path near Rattlesnake Park on Saturday morning, flagging down cyclists for no apparent reason beyond community building.
"They said they had done it before, and had just decided to do it again," said one passing cyclist, a 24-year-old from Eagle Rock who's been riding along the river near Griffith Park for years. "It seemed like they were just, like, 'Let's just get together and do something nice.'"
Gathering at the river to do something nice has become a trend this summer, as momentum has built around the restoration and revitalization of L.A.'s long-suffering namesake waterway.
With scores of projects already complete and a $1 billion Army Corps of Engineers plan expected to dramatically improve an 11-mile stretch between downtown and Griffith Park, a nascent but notable scene has taken hold along the once-maligned L.A. River, particularly where it has been spruced up with pocket parks, hiking trails and bikeways.
This summer, for instance, kayaking tours are being offered in public recreation areas in the Sepulveda Basin and in Elysian Valley; later this month, about 100 stand-up-paddlers and rowers will gather in the Glendale Narrows for a first-ever L.A. River Boat Race.
The Los Angeles River Corp. is offering outdoor bike-in movies along the riverbanks later this month and has its second annual Greenway 2020 10k race scheduled for early November. Meanwhile, the Elysian Valley Arts Collective will host its annual Frogtown Art Walk again next month by the river. Nearby, Elysian, an underground restaurant that materialized two years ago on the river near Atwater Village, will be up and running, legally and officially.
Along the L.A. River's concrete banks, The Frog spot offers food, concerts and more. Photo/Franklin Avenue Blog
Elysian is also the home of Clockshop, a non-profit arts and cultural organization, and the site for more than a few weddings during the past year. And speaking of art, be on the lookout for the L.A. Mud People, a performance art group that frequents the river both as a medium and a backdrop.
"It's really kind of miraculous," marveled Lewis MacAdams, president of Friends of the L.A. River, which has itself drawn thousands of passersby over the past six weeks by staging free weekend concerts at The Frog Spot, an informal venue it set up this summer on Benedict Street along the Elysian Valley bike path.
"We've been surprised at how many people have showed up—probably 500 or so every Saturday and Sunday," said MacAdams, adding that FOLAR will also be sponsoring a catch-and-release fishing event next month. "People are getting interested, and looking for community."
MacAdams sees the interest as an outgrowth of the long political fight to restore the river, which was paved in the 1930s in an attempt to tame periodic but lethal floods. Nearly 4,000 people participated this year in FOLAR's long-running annual river cleanup, he said—a record turnout—and each cleanup has helped spread the news of the river's revitalization and potential.
So far, MacAdams said, most of the community activities have centered around FOLAR and the Elysian Valley arts community near Frogtown.  "But a lot of it also is the bicycle population," he said. "There are more bicyclists than we imagined, and they keep coming back."
Julia Meltzer, executive director of Clockshop and the wife of David Thorne, who runs Elysian restaurant, agreed that the riverfront has become exponentially more active.
"There's a lot more recreation and sporting," she said, acknowledging that the various improvements, from friendlier landscaping to paved bikeways, have created occasional conflicts among walkers, cyclists, locals and other constituencies.
Nonetheless, a first-ever, free community campout along the river that Meltzer said she helped organize over Memorial Day weekend—along with California State Parks, the Mountains Recreation and Conservation Authority, the Natural History Museum and others—was fully booked within an hour of its announcement.
"I think it's the big buzz, and the opportunity to come down to the river's edge legally now," said MRCA Chief Ranger Fernando Gomez, adding that some 200 campers showed up on Memorial Day and that hundreds more have shown up this summer for MRCA river programs, ranging from free community paddles to evening weenie roasts in Marsh Park.
"It used to be that people weren't allowed in the river without a special use permit—it wasn't meant for recreation," Gomez said. "People would look at the river and think it was disgusting.
"But now, they can go down in, say, a kayak, and they see that the water is actually pretty clean, and there's a heron right over there taking off with a fish in its mouth. They see that it's not just all about concrete anymore," Gomez said. "It's a river—a real live river—now and people want to be part of it."
A first-ever L.A. River campout over Memorial Day weekend was fully booked in an hour.
Posted 8/6/14
The creature from Topanga Creek
The intruder. Photo/Resource Conservation District of the Santa Monica Mountains Stream Team
Louisiana red swamp crayfish may be a delicacy in the gumbo pot, but these voracious Cajun imports are an unwelcome ingredient in Topanga Creek, where they cloud the water and chow down on native fish, bugs and amphibians.
They've been in residence since 2001, when a local resident is said to have dumped a batch of live crayfish into the creek in hopes of cultivating a perennial free bait supply. Since then, there have been intermittent community clean-ups, and those efforts—coupled with winter storms that traditionally have washed many of the crustaceans out to sea—were usually enough to keep the population in check. But a lack of significant rainstorms since March 2011 has spawned a crayfish baby boom.
"We've had perfect growing conditions for crayfish. The water is slow-moving. It's warm. And they have gone berserk," says Rosi Dagit, a senior conservation biologist with the Resource Conservation District of the Santa Monica Mountains. "They're a very intense predator…It's kind of gotten out of control."
That's bad news for the health of the creek and also for creatures like the California newt, a snack of choice for hungry crayfish.
"One day we literally witnessed a newt in the hands of five crayfish," says Lizzy Montgomery, 25, a Watershed Stewards Project intern working at the site. Montgomery and her fellow intern, 24-year-old Crystal Garcia, are in the midst of a crayfish research and removal plan now underway at the creek.
They rescued the newt, but the sight of the near-carnage was enough to help Montgomery get over her qualms about dispatching the crayfish with extreme prejudice. (The creek is clean but the crayfish are bottom-feeders and probably not suitable for people to eat, Dagit says. The collected specimens have been frozen and donated to the Nature of Wildworks wildlife center as food for raccoons being rehabilitated there.)
The interns haven't been working alone. Starting in October, they mobilized a brigade of local schoolchildren from Calvary Christian School in Pacific Palisades and the Topanga Wildlife Youth Project to conduct weekly crayfish removals in a section of the creek. Their haul to date: more than 400 crayfish.
With the end of the school year, the program has gone on hiatus but Montgomery and Garcia say they hope to bring it back. Supervised removals are important because of Topanga Creek's delicate eco-system; the creek is home to several endangered or threatened species and fishing is prohibited, with special permission required for any crayfish removal, Dagit emphasizes.
Meanwhile, Montgomery and Garcia also are conducting scientific research comparing the cleaned-up area with an adjacent part of the creek where the crayfish continue to run wild. They've already created a scientific poster that they've presented at two conferences, and hope eventually to have their findings published by the Southern California Academy of Sciences.
Their internships, funded by a grant from the office of Supervisor Zev Yaroslavsky, are set to end in August. After that, it will be time for an all-too-common Southern California pastime—hoping for rain. Even a wet winter probably wouldn't be enough to completely eliminate the crayfish, which Dagit says are now established in most of the creeks in the Santa Monica Mountains. But it would help keep the invaders in check.
"What we're hoping is that we'll get some really good rains and that the population will get severely diminished," Dagit says. "And at that point we will mobilize people as best we can to do a really concerted removal."
For a peek at how it's done, check out the YouTube video below.
Posted 5/28/14
Support floods the L.A. River
A greener Los Angeles River, as depicted in this rendering, is on the way under federal financing plans.
The Los Angeles River is getting a lot of love these days. The infamous concrete channel that's been likened to a scar on Los Angeles' civic psyche is now on the front burner to receive major improvements, and it's got a lot of political muscle in its corner.
On Tuesday, as Mayor Eric Garcetti led a contingent of city officials and activists to rally support in Washington D.C. for a massive project to restore the river's natural habitat and create more open space for the public, the L.A. County Board of Supervisors waded into the effort from a continent away.
Acting on a motion by Supervisor Gloria Molina, the Board voted 3-0 to back Alternative 20 of the Los Angeles River Ecosystem Restoration Feasibility Study, and to send a letter of support to federal agencies, President Barack Obama and the Los Angeles Congressional delegation. Supervisors Michael D. Antonovich and Don Knabe abstained from the vote. Alternative 20 is the most sweeping of four alternatives reviewed in the study—which was commissioned by the United States Army Corps of Engineers—and it comes with a $1 billion price tag that would be shared by the City of L.A. and the federal government.
Lewis MacAdams, president of Friends of the Los Angeles River, a non-profit group dedicated to restoring the waterway, said the Supervisors' move adds much-needed momentum to the cause.
"It makes it clear on every level that the people of Los Angeles want to see the restoration of the river to the largest possible scale," MacAdams said. "What you're seeing from the Board of Supervisors is a commitment to the restoration of the river from the area's most powerful political body."
When the Corps released its study on plans to restore 11 miles of the river between Griffith Park and downtown L.A. last month, the long-awaited report met with a lukewarm reception. Of the four alternatives analyzed, the Corps tentatively recommended Alternative 13, the second-least-extensive option. It would restore 588 acres of habitat and create four miles of new trails, three new restrooms and five wildlife viewing areas. But MacAdams said that, while those improvements are welcomed, the $453-million plan still wouldn't do L.A.'s waterway justice.
"The Corps wants to get out on the cheap, so they aren't even paying attention to their own study," MacAdams said. "Alternative 13 only restores minimal habitat."
But MacAdams is optimistic about getting something better. He said the growing list of supporters for a larger project now includes U.S. Senators Barbara Boxer and Dianne Feinstein, along with local members of the House of Representatives and Minority Leader Nancy Pelosi. But while Mayor Garcetti and other supporters are pushing for Alternative 20, the project faces an uphill battle in Congress, where budgetary constraints and partisan gridlock are the order of the day. On Tuesday, Feinstein acknowledged that it may be necessary to find a middle ground. (Another option in the feasibility study, Alternative 16, splits the difference between the two plans—including some, but not all, of the improvements for a price tag of $840 million.)
"Even if we don't get what we want and have to settle for [Alternative] 13 or 16, it begins to take back the river, and that's a journey that's going to take a long time," MacAdams said.
The L.A. River was encased in concrete after repeated flooding devastated parts of the city in the early part of the 20th century. The massive project stopped the flooding, but also destroyed miles of habitat and transformed the river into an eyesore, driving local residents from its banks and making it the butt of jokes on a national level.
In recent years, interest in revitalizing the river has surged. In 2010, the Environmental Protection Agency declared it a "navigable waterway," paving the way for enforcement of the Clean Water Act within its 834-square-mile watershed. And just this past summer, a kayaking pilot program experimented with literally navigating the river.
All three options under consideration would return 13 currently-underground streams to the surface, create new habitat and restore, at least partially, three adjacent properties—Taylor Yard, Piggyback Yard and Pollywog Parcel. Alternatives 16 and 20 also would add terracing along stretches of the riverbank, remove some of the concrete and create new wetlands.  However, only Alternative 20 would connect the river to L.A. State Historic Park, bring large-scale restoration to the river's confluence with the Verdugo Wash and widen part of the river bed.
For the county, Alternative 20 would be a big help in managing the watershed, said Mark Pestrella, an assistant director for the Department of Public Works. While the Army Corps is tasked with taking care of the stretch of river where the project would occur, the county Flood Control District manages other sections of the waterway. Bringing more people to the river would induce them to help take care of it and support its continued improvement, Pestrella said. The restoration project would join an ongoing evolution of the urban river that stretches back to the 1980s and includes the 1992 Los Angeles River Master Plan, the first study to take a comprehensive look at the entire length of the river to look for opportunities for recreation, restoration of habitat and creation of open space.
"We are midstream—the County sees this as the next step," Pestrella said. "We've done hundreds of millions of dollars in L.A. River Master Plan improvements already."
Because Alternative 20 adds new park space and improves connections to neighboring communities, county officials and other supporters say it would draw more people seeking recreation opportunities.
"Until people actually reach out and touch the environment and nature, they don't know what they don't have," Pestrella said. "Once people make an investment in it that improves their life, they just want more of it. We're funded by the public so we need that buying in—we need people to turn toward the river."
Here's how that same passage of the river, as depicted above, looks today.
Posted 10/31/13
Bridging the equine divide
La Kretz Crossing will represent a gateway for equestrians and a symbol of the L.A. River's restoration.
The Los Angeles River, it seems, is no place for horseplay.
For some two decades, equestrian advocates have pushed for a bridge over the river to connect the stables of Atwater Village to the trails of Griffith Park. The only alternative has been to ford the shallow river, a bit of tricky navigation even for skilled riders because of the slick, algae-covered rocks beneath the surface.
"The horses look like they're on roller skates, their legs going in all directions," says longtime rider Lynn Brown, a member of the City of Los Angeles' Equine Advisory Committee. "Almost no one who keeps horses on the Atwater side crosses the river. It's so dangerous."
But that's about to change. Real estate developer and philanthropist Morton La Kretz has ridden to the rescue, donating nearly $5 million for a strikingly-designed bridge that will allow equestrians, pedestrians and cyclists to cross the water north of Los Feliz Boulevard. Maybe just as important, officials say, the 300-foot-long La Kretz Crossing—with a towering support structure visible from the adjacent 1-5 Freeway—will signal to broader L.A. that the river's renaissance is for real.
Developer/philanthropist Morton La Kretz
The construction of the bridge, scheduled for completion by the end of next year, is being overseen by the non-profit Los Angeles River Revitalization Corp., created by the City of Los Angeles to bring together public and private donors to transform the river into one of the nation's premiere urban playgrounds. In fact, as part of the publicity surrounding La Kretz Crossing, the group this week announced the launch of Greenway 2020, an ambitious initiative to finish all 51 miles of the L.A. River bikeway by decade's end, complete with such amenities as picnic sites, eateries and bike shops.
In addition to La Kretz' donation, the bridge is being underwritten by contributions from the city and an allocation of more than $300,000 by Los Angeles County Supervisor Zev Yaroslavsky from voter-approved parks and open space funds.
Designed by the structural engineering firm of Buro Happold, the bridge will be divided with pedestrians and cyclists sharing one side and equestrians on the other. There'll be a rubberized surface so the horses don't slip and an eye-level fence to keep them from getting startled by passing cyclists. On the river's western bank, the bridge will intersect with the bikeway, where equestrians and hikers can access Griffith Park's trails through an existing tunnel under the freeway.
La Kretz was brought into the fold by renowned landscape architect Mia Lehrer, who says she got to know him while doing work for the environmental organization TreePeople; La Kretz's name adorns the group's educational Urban Watershed Garden in Coldwater Canyon. Lehrer says the elderly La Kretz, an avid cyclist, knew she was involved with the river's restoration and said: "Give me something I can get excited about—and it has to be done while I'm still around."
Soon, Lehrer says she and the river corporation were pitching the idea of a new bridge, the first that would be built in more than two decades and that would symbolically represent "a gateway" for the reimagined river. "He loved it," says Lehrer, whose firm is the project's landscape architect.
And La Kretz wasn't alone in his enthusiasm.
Equestrian advocate Lynn Brown has been pushing for years for a bridge between Atwater Village and Griffith Park.
"When I heard it was going to be built I was like, 'Yay!" says Javier Del Angel, manager of The Paddock, an upscale, 200-horse stable along the river's eastern bank in Atwater. He says he and his horse have tumbled twice trying to negotiate the crossing. "It was very scary, and I've been riding my entire life."
Some years back, Del Angel says, a woman hit her head and was in a coma for three months. On another occasion, a horse had to be airlifted out of the river after slipping on the rocks. "His legs just gave out," Del Angel recalls, adding that a few weeks later, the animal had to be put down.
With La Kretz Crossing providing easy access to the park, Del Angel says he now sees not only safer passage but also new financial opportunities: "I'm thinking about opening a new horse rental business," he says.
Equestrian advocate Brown also calls plans for the new bridge "a huge deal." Like Del Angel, she too has stories of river mishaps, including one just last year while helping the L.A. River Revitalization Corp. with a video for its website. The organization said it wanted footage of horses in the river, so Brown recruited the president of the L.A. Equine Advisory Committee, who brought along an extra horse to lead through the water. Before the filming began, she says, the riderless horse stumbled and fell.
Frankly, Brown says, she was "utterly stunned but pleased" that she was even asked to participate in the video in the first place. She said that, for years, the safety and access concerns of the equestrian community seemed to go unheard.
"We thought it was a lost cause," she says. "I'm happy to be wrong."
Amid all the hoopla, however, one horseman offered some words of caution.
Tony Lomedico is a lieutenant with the Los Angeles Police Department's Mounted Unit, which is based along the river in Atwater Village. He acknowledged that the bridge will enhance safety for novice riders but expressed reservations about how some horses might react to being so close to cyclists, calling it a "new sensory experience" to which they'll have to get accustomed.
"We look forward to the bridge coming," Lomedico says, but "I think it's going to create some challenges."
Just minutes before this video image was captured, the brown horse lost its footing and fell.
Posted 7/25/13
Streaming live from the Valley
Phase I of the Tujunga Wash Ecosystem Restoration Project has already grown lush. Phase II is underway.
The San Fernando Valley is about to get a little greener. Phase II of the Tujunga Wash Ecosystem Restoration project breaks ground next Wednesday. By the time it's completed, it will have restored ten acres of open space and created a sustainable stream system in the neighborhood of Valley Glen.
The $7 million project is a joint effort by the Los Angeles County Department of Public Works and the United States Army Corps of Engineers. The area to be restored is 3,000 feet long and 65 feet wide on each side of the wash. The finished section will link two existing "greenbelts"—Phase I of the project and an "original" greenway from the 1970s, forming 13,200 consecutive feet of revitalized land.
For the ecosystem, the project means nesting for migratory birds and a corridor for wildlife movement. Native vegetation will be installed, and the new stream will give local plants a chance to take root. The stream will replenish groundwater and act as a natural filter to urban runoff.
"The goal is to mimic Tujunga Wash in its natural state, but on a smaller scale," said Richard Gomez, project manager for Department of Public Works.
For humans, the project offers a place to walk, learn and explore. Ornamental gates will mark entry points, a 12-foot-wide path will give pedestrians and bicycles room to meander and educational signage will teach visitors about the local ecosystem and the project itself. Benches and rock wall seating will offer folks a place to rest amid the greenery. Existing chain-link fencing will be replaced with more aesthetically pleasing material.
A ceremonial groundbreaking will take place at 10 a.m. on Wednesday, February 22, at the intersection of Vanowen Street and Fulton Avenue. Speakers include Supervisor Zev Yaroslavsky, Colonel R. Mark Toy and Public Works Director Gail Farber. The public is invited to attend.
The Tujunga Wash feeds into the Los Angeles River in Studio City. In the first half of the 20th century, repeated flooding of the channel caused widespread property damage and even some deaths. As a result, in the 1950s the Army Corps of Engineers lined nine miles of it with concrete. This and other human activity had the unintended effect of eliminating the natural habitat of the waterway.
The longterm hope is revitalization of the entire length of the Tujunga Wash, said Gomez. When the current project is completed this fall, that goal will be 3,000 feet closer.
Posted 2/15/12
Boom times on the L.A. River
When the heavens open, as they did epically last month, the Los Angeles River becomes a roaring, churning testament to urban junk and waste.
With a collection area of nearly 900 square miles, it carries in its rain-swollen waters anything that can be chucked into flood-control channels or pushed down curbside catch basins—sofas, stereos, soccer balls, spray paint cans from taggers, whatever.
Then there's the trash, layers of plastic bags and Styrofoam mixed with tangled vegetation mowed down by fast moving waters on the river's channel bottom, where it's been allowed to grow wild again.
At the end of this mucky 51-mile journey to the sea is Jared Deck of Los Angeles County's Public Works Department. He oversees a multi-million dollar operation in Long Beach to corral all that junk in a boom unfurled across the river, just north of the Queen Mary and the harbor. Think of it as a goal line stand.
At first, it's hard not to be caught off guard by Deck's youthfulness in a bureaucracy in which some guys have been on the job longer than he's been alive. But then you learn that the 26-year-old is a Hermosa Beach surfer with a unique feel for the value of his job—and those of his colleagues in the Flood Maintenance Division—every time he paddles into the water.
"It's fulfilling," Deck says. "My playground is the outdoors so I enjoy doing anything I can to make it better."
In March, the stakes were historically high for him and the boom, which was first placed across the river 11 years ago as a pilot project. More dammed up debris—460 tons of it—was hauled out of the water than at any time before, tangible evidence of the severity of the March storms. The tonnage included full, uprooted trees. (See video below of the boom in action.)
To be sure, the county, along with its private and government partners, has worked hard to significantly reduce the amount of debris and pollutants flowing into the Los Angeles River from a watershed area of nine million people.
Among other things, county officials have installed 11,000 catch basin screens and other devices in unincorporated areas and have encouraged cities across the region to do the same. They've also launched ad campaigns to discourage dumping and educate the public about the relationship between the ocean and what they wash down their driveways.
Still, during the storm season between October and April, all bets are off. Those catch basin inserts, for example, are designed to unlock so greater loads can be accommodated and street flooding can be reduced.  And, with as much as 330 million gallons a day flowing through the river, there's little to do but wait for the debris to hit the boom.
Formerly called the Los Angeles River Trash and Debris Collection System, the boom is operated by a private contractor, Frey Environmental of Newport Beach. On Tuesday, the Board of Supervisors renewed Frey's contract for an annual sum of $795,000, with a 66-month maximum of about $4.4 million.
Since Frey first got the business in 2003, Dave Duncan has been there for the company as one its site operation managers. During the past eight years, he says he's seen it all, including the sad discovery of a 35-year-old woman's body. "I thought it was a mannequin," he says.
Duncan says he understands why there's so much old junk that ends up at the boom, where it's lifted into dumpsters by cranes with "grab buckets."
"If you're on the low end of things, making $8 an hour and you don't have money to go to the dump, what do you do? You throw it in the channel and hope for the best," he says.
The experience and continuity that Duncan has brought to the operation gave a sense of confidence to Deck, who, in 2008, was assigned by the county to work directly with the contractor. "Whenever I'm on the site, Dave is always there," says Deck, who was promoted last fall and now supervises the person who got his old job.
Deck grew up in central Maine—"in the middle of the woods"—and attended an engineering school in Worcester, Mass. Deck says he was quickly recruited by Los Angeles County before hiring freezes ended such efforts.
The recruiter, a Boston native, took him straight to the beach. "I was sold from there," says Deck, who had learned to surf while studying abroad in Puerto Rico. An avid skier, too, he now lives in a Hermosa Beach apartment.
In his short number of years here, Deck says he's had a great vantage point for seeing the success of efforts to keep the ocean cleaner by diverting runoff and trapping debris. "When I go surfing," he says, "the water quality is significantly better…It's great to see the system functioning and working."
The boom in action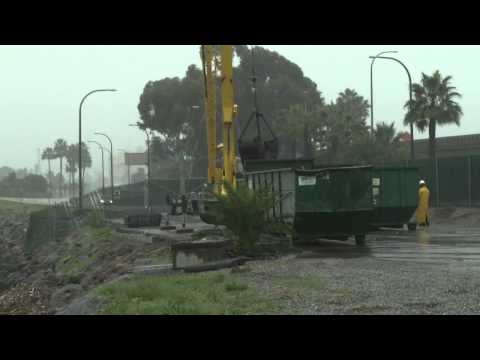 And here's something you can do: Join the Friends of the Los Angeles River's 22nd annual cleanup on Saturday, April 30th, from 9 a.m. to noon. The details are here.
Posted 3/31/11
What's killing Malibu Creek's steelhead
Twice in recent summers, Malibu Creek's fledging population of endangered steelhead have been decimated, leaving the experts baffled and saddened.
In 2006, hundreds of the fish turned yellow and died after a heat wave that was accompanied by a foul-smelling black layer of rotting algae and bacteria in the stream bed. The ooze earned a nickname: Malibu Muck.
By early 2008, the population of juvenile steelhead managed to edge toward 3,000 again, giving biologists hope that the fish were making a strong comeback.
But last year, the die-offs returned with a vengeance. Steelhead, as well as the hardy carp, crayfish and others, died en masse. The Malibu Muck was back, too. This time, the baby steelhead didn't turn yellow but the population in the creek still plummeted from about 1,300 to just 200 young fish.
In the bad years, "everything was dying," says conservation biologist Rosi Dagit. "And we really had absolutely no clue why."
Last week, Dagit and other conservation biologists waded into the creek to look for answers, launching the most comprehensive water quality study ever undertaken in the crucial Santa Monica Mountains watershed.
Standing waist deep in Malibu Creek, Steve Williams and Kevin Jonz carefully slid a high-tech measuring device called a sonde inside a plastic housing and dipped it into the algae-green water. They anchored the two-foot cylinder to the creek bed with a steel fence post and then fastened the contraption to a willow thicket with a stout metal chain.
In all, five sondes were installed—four in Malibu Creek and one in nearby Topanga Creek. The devices will gather six vital measures of water quality every 30 minutes, around the clock, from April to October. The thousands of data points on water temperature, clarity, pH, algae levels, conductivity and oxygen levels will provide scientists with a full view of the changes in water quality over an entire season, from the high flows of spring to the slack low water of late summer and fall.
"The overarching question is what [water quality] factors are causing problems for the steelhead recovery," says Dagit, a senior conservation biologist for the Resource Conservation District of the Santa Monica Mountains and the study's lead scientist. "If you can find ways to give the fish a chance, then you can grow the population."
Southern steelhead are sea-going rainbow trout that, like their salmon cousins, return to spawn in the creeks and rivers of their birth. The red-stripped, olive-and-silver fish, which can grow to 35 inches or more, has been in decline since the 1950s and became endangered more than a decade ago.
Thousands of tiny steelhead are born in creeks from San Luis Obispo to Mexico, but few survive to migrate to the Pacific. Today, the total population of adult fish that made it into the ocean off Southern California is estimated at only 500. (A northern subspecies, also endangered, ranges from Central California to Canada.)
If the southern steelhead are to stage a comeback, they'll need to breed in the deep pools of streams like Malibu Creek, where the young must survive for a couple of years until they're old enough to head to sea.
Dagit and others believe that the Malibu Muck is at least partially responsible for the carnage. They hope the new study will provide clues to why the muck can be so bad in some years and not in others. At its worst, it's a carpet of black and white ooze a foot deep in places, coating the entire creek bed. Composed of rotting algae, bacteria and smelling like sulfur, the muck was "ubiquitous" at the time of the die-offs, Dagit says.
Whatever connects the muck to the fish kills, it's not as simple as the presence of a simple toxin in the water. An earlier chemical analysis of a muck sample turned up nothing that would account for the deaths, says conservation biologist Sandra Albers.
Today, steelhead can only travel two miles upstream, where a dam built in the 1920s blocks their path. So the scientists placed two sondes in the steelhead pools in the lowest parts of the creek. Two more will be placed in similar deep pools above the dam to see if conditions in the lower creek are significantly different. The sonde in Topanga Creek—a stream that also supports a small steelhead population—was placed there as a way to compare its healthier waters with those of Malibu Creek.
Albers and others will download the data every month via handheld devices that plug into the sondes, four of which are on loan from the Southern California Coastal Water Research Project and the other from the Las Virgenes Water District. Supervisor Zev Yaroslavsky's office has committed $8,000 to help cover the project's costs.
No one is expecting a simple fix. But the hope is that scientists can develop a new hypothesis by combining the data with ongoing studies of steelhead counts, algae populations and the proliferation of a tiny invasive pest called the New Zealand mud snail.
Still, the scientists believe they'll find useful information that will someday allow steelhead to grow up in Malibu Creek once again in significant numbers.
"There are a couple of pieces of the puzzle that we don't have a handle on," says fish biologist Carl Demetropoulos, an environmental consultant who volunteers his time to help with the study and fondly remembers catching small steelhead with his dad in Malibu and Topanga in the mid-1960s. "Steelhead are really adaptable and the best hope is that they are already able to come back."
Posted 4/6/10
Extreme makeover: L.A. River edition
For decades, the Tujunga Wash was little more than an eye-sore, a concrete flood-control channel snaking through Valley subdivisions, a tributary of the equally blighted Los Angeles River. Its one purpose: to move runoff to the ocean.
No more.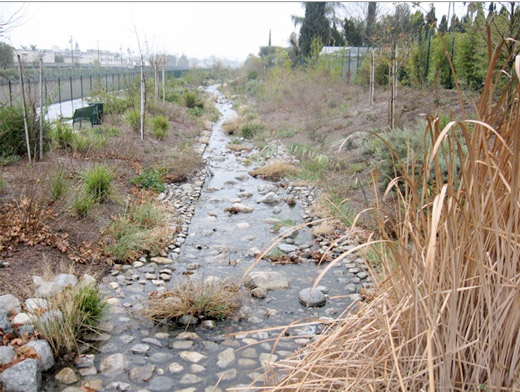 A stretch of the Tujunga Wash between Vanowen and Oxnard streets in the Third District has now become a model for urban environmentalists, complete with hundreds of new trees and plants, a bike path and a stream that allows rainwater to seep into the aquifer rather than run straight to the sea.
It is, in sum, a beautiful blend of conservation and recreation.
The effort has been so successful that a second greenway project for the Tujunga Wash is now being launched by the Army Corps of Engineers with nearly $4 million in stimulus funds from Washington. Los Angeles County is expected to contribute an additional $1.25 million.
Scheduled for completion in early 2011, it will run from Vanowen to Sherman Way—a 3,000-foot mirror-image extension of the earlier greenway and stream restoration project that Supervisor Yaroslavsky has praised as "a template for the rest of the Los Angeles River."
The greening of Tujunga Wash is, in fact, just one facet of an ambitious makeover
of the 51-mile-long L.A. River that was adopted in 1996 by the Board of Supervisors and involves a partnership between the city and county of Los Angeles, the U.S. Army Corps of Engineers and non-profit community groups that have raised money and supplied labor to replant sections of the river. The mission: to protect the river's flood capabilities while enhancing adjacent communities with parks, recreational opportunities, environmental restoration, economic development and civic pride.
Already, segments of the river—near Griffith Park, for example—have been transformed with popular bike paths and thick natural vegetation that has attracted migratory birds and other wildlife. Some plans call for the removal of concrete along certain sections of the river to restore it to an even more natural state.
Work on the latest segment of the Tujunga Wash, which feeds runoff from Hansen Dam to the L.A. River, is expected to begin in summer, 2010, and be finished in six months. According to the Army Corps of Engineers, the project will bring an additional 14 acres of open space and native habitat to the area, as well as extend the stream that was earlier created by the county to cleanse runoff and replenish the aquifer.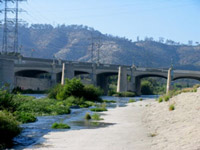 "Continuing the work on this project is important to helping restore degraded habitat along the channel, providing nesting opportunities for migratory birds and establishing a corridor for wildlife movements," said Col. Thomas H. Magness IV, commander of the corps' Los Angeles District.
The project received federal stimulus dollars, according to Army Corps of Engineer officials, because it's expected to create an estimated 32 jobs directly related to the work and an additional 55 jobs in industries supplying or supporting the construction, performing operations and maintenance and selling goods and services to the workers and their families.
Around the County
Saving animals by the numbers
Better data can lead to programs to save the lives of kittens, like this one in a new Mission Hills "nursery."
Furry pet faces never fail to tug heartstrings, but when it comes to animal welfare, numbers don't lie: Last year, some 79,150 cats, dogs and other pets ended up in Los Angeles County animal shelters, and fewer than half of them made it out alive.
That, believe it or not, is actually good news. Five years ago, the euthanasia rate in county shelters was 65%. But while most people know that pet adoptions and spaying, neutering and licensing are all acts of kindness, nothing drives home the point like the hard facts.
That's why the county Department of Animal Care and Control has gone online with its statistics.
"Our biggest hope is that people will see these numbers and realize not only that the department is doing great work, but also that this really is serious. Spaying and neutering and keeping pets secured so they don't end up in shelters is really important," says Betsey Webster, chief deputy director of Animal Care and Control for the county.
"These animals end up with us as a result of human behavior. Some people just don't understand, but some of it also is just irresponsible ownership."
Department Director Marcia Mayeda says the new stats pages, which went up in late December, were on her to-do list for a long time, but couldn't be implemented until the department upgraded its 13-year-old web site. Though animal control data have always been a matter of public record, until now, people had to call or email the department and request them.
"Other agencies put their statistics online, but we wanted to do more than just put up spreadsheets," says Mayeda. Working with the county's Internal Services Department, her team spent about six months turning its raw numbers into colorful graphics and pie charts that demonstrate the scope and the challenges of animal welfare in the county.
For instance, Mayeda offers this disturbing data point: Only a quarter of the nearly 30,000 cats that ended up in county shelters last year escaped euthanasia, and only one in 100 was returned to an owner.
"The No. 1 reason why an animal dies in our shelters," she says, "is because it's a feral cat."
For dogs, on the other hand, the picture is much more optimistic. Only about 35% of the county's 41,500-plus shelter canines had to be euthanized last year.
"When I started in 2001, our euthanasia rate for dogs was about 66%," says Mayeda, noting that 60% is still the national average. "But we've made tremendous inroads. We've worked closely with more than 200 animal rescue groups. We do pet transport, where groups will take 30 or 40 dogs at a time to other parts of the country where there's a demand for adoption.
"And we've gotten a lot more volunteers in the last 10 or 12 years, who have helped us with finding pets homes through offsite adoptions. A lot of people don't want to go to shelters because they're afraid it'll be too sad for them, so we'll take 10 or 20 dogs to a PetSmart, and people will come and adopt them. All of it has really pulled down our euthanasia rate."
Marc Peralta, executive director of the Best Friends Animal Society in Los Angeles, which has worked with the City of Los Angeles to reduce the kill rates of healthy, treatable animals in its shelters, applauded the county's efforts. Good animal control data, he says, can literally mean the difference between life and death for lost, abandoned or homeless pets.
Though some shelter animals will inevitably be put to sleep—vicious dogs, for example, or pets who are too old, ill or feral to be feasibly adopted—many end up being euthanized merely because public shelters have limited space but are forbidden by law to turn any stray away.
"In Los Angeles's city shelters, one of the first things we noticed was that something like 6,000 of 13,000 cat euthanasias were neonatal kittens," says Peralta. The baby cats were too young to be spayed or adopted, he recalls, but the city shelters weren't equipped to provide intensive bottle-feeding to that many kittens without badly neglecting their other charges.
So last year in Mission Hills, Best Friends and the No Kill Los Angeles animal welfare coalition jointly opened a neonatal kitten nursery.
"We thought, if we can get those newborns to two months, who doesn't want to adopt kittens?" That initiative alone, he says, has saved thousands of cats from euthanasia. "All that was based on data from shelters," he says. "It helps us know where to point the guns."
Mayeda says the department is hoping over time to deepen their online statistics, which currently focus on overviews and shelter-by-shelter outcomes in the county's six regional shelters. Those numbers in themselves are eye-opening—pets in the county's Agoura shelter, for instance, are about twice as likely to be adopted or returned to their owners as are pets in the much-larger Downey shelter.
But Mayeda says she also wants to drill down on the feral cat outcomes so that the public better understands the urgency of the problem.
"A lot of people will say, 'There's this cat in my yard and I don't mind putting out food, but she keeps having kittens and they get hit by cars or beaten up by tomcats.' Well those people mostly don't want to spend $300 to take that cat to a veterinarian and have it spayed, but a feral cat is like a raccoon—you can't really adopt it."
In fact, she notes, the county offers discounted services for senior and low-income pet owners, and animal welfare groups such as the Spay Neuter Project of Los Angeles will spay or neuter a "community cat," as they call feral felines, for as little as $25. But many people are unaware of those services and believe that a trip to a vet is the only option.
"So people end up bringing it to the shelter, where our only option is to euthanize it.  But if they were to see the numbers, and if there were, say, a big push for free or low-cost spaying and neutering and a program they could go to, well, that would be one less cat that we'd have to put to sleep."
In the meantime, Webster and Mayeda say, pet owners can take advantage of the vaccination, licensing and microchipping services offered at shelters countywide. Currently offered on various weekdays at the shelters, the services will gradually shift this year to alternate Sundays from 10 a.m. to 3 p.m. (Click here for the current microchipping schedule, and here for information on the new Sunday clinics.)
"Microchipping is mandatory in unincorporated Los Angeles County," Webster points out. "But it's also great because an animal that is microchipped can make it home without entering the shelter at all."
These kittens, and many others, are up for adoption at the Baldwin Park Animal Care Center.
Posted 1/8/14
Code busters beware
Deputy County Counsel Dusan Pavlovic at the scene of one of his successes near La Puente.
Dusan Pavlovic is making a real nuisance of himself.
As a member of the Los Angeles County Counsel's office, it's his singular mission to make life difficult for people who violate Los Angeles County's public nuisance codes for everything from operating neighborhood drug houses to building structures without permits to running raves in warehouses rented under false pretenses.
Then there's the downright creepy.
"We found one house that had concrete prison-style cells underneath," Deputy County Counsel Pavlovic recalled. "The owner said he constructed it as a bomb shelter but the Sheriff's Department suspected it may have been used to keep undocumented immigrants."
On Tuesday, the Board of Supervisors gave Pavlovic and his small code-enforcement unit a much-needed boost in their "nuisance abatement" efforts for Los Angeles County's unincorporated areas:  a new ordinance that, for the first time, allows the county to collect daily fines, attorney's fees and administrative costs.
"When you hit them in the pocket book, that's where it hurts," Pavlovic said. "They're more attentive to the problem."
Pavlovic, who has led the enforcement team since its creation eight years ago, said the existing public nuisance law needed toughening because violators had little to fear, given the unlikelihood of judges giving jail time for most code transgressions.
"You'd be surprised how many times people choose to ignore the issue," explained Pavlovic, who pushed hard for the stiffer penalties. "They tell us, 'Do what you want.' Now we will."
The ordinance, which has been on the books for decades, bans property uses that are "detrimental to the community's tranquility and security." Those include activities that, according to the law, "endanger public health, safety and welfare, invite crime, reduce property values, degrade the environment and negatively impact the quality of life of the residents."
Pavlovic said he's seen—and heard—it all out there since joining the county counsel's office in 2005. "I tell you, these people get pretty creative," he said.
For example, there was a property owner in Topanga Canyon, who, for reasons that remain unclear, perched an automobile on the roof of his carport. Rather than remove the vehicle as ordered by the county, the violator, according to Pavlovic, "just took a couple of plywood boards and enclosed the car so it was no longer visible. He said, 'You see, it's no longer there."
Some violators, on the other hand, are so open about their entrepreneurial misdeeds that they practically invite neighbors to drop a dime on them. Take the case of an East Compton man who was running an illegal "chop shop" at his home. Pavlovic said the man not only was dismantling cars but was then selling parts in the front yard.
"Residents kept complaining, and he kept dismantling," Pavlovic said.
Pavlovic said he doesn't want to sound like a cliché but that he's committed to "improving the quality of our neighborhoods and eliminating these public nuisances."
"We've all been in situations where we've had a bad neighbor," he added. "I think that's something every person can relate to."
Posted 10/29/13
Rising river lifts neighborhood, too
Chief Ranger Fernando Gomez orchestrates a "community paddle." Photos/Grove Pashley, LA River Kayak Safari
It was still weeks before kayakers would start journeying down a lush stretch of the Los Angeles River, but boosters of the summer-long pilot program could feel the resentment building.
Residents of Elysian Valley were worried that interlopers would start flocking to—and disrespecting—their diverse, working-class neighborhood along the river. Some wary families were still nursing hurts going back generations, when people were relocated to "Frogtown" after being forced from nearby Chavez Ravine to make way for the Brooklyn Dodgers' new home.
"There are some long memories out there," said artist Steven Appleton, chairman of the Elysian Valley Riverside Neighborhood Council and an advocate of the escalating efforts to remake the L.A. River. "A perception was developing that a lot of people from outside the area were going to take advantage of them."
So Appleton donned another hat. He and his partner, Grove Pashley, quickly created a kayak company and began working with the Mountains Recreation and Conservation Authority to build a local constituency for the new Los Angeles River Recreation Zone—a brief, closely-watched collaboration that ended on Labor Day but is winning praise as a model of neighborhood engagement for the future.
News coverage of the pilot program has mostly focused on the strange yet appealing sight of 3,000-plus kayakers who, between Memorial Day and last Monday, worked their way down a 2.5-mile section of the river in the Glendale Narrows area. There, the bottom is coated in silt and rocks, unlike other sections of the 51-mile route, where concrete is the dominant feature. Paddlers included everyone from Los Angeles Mayor Eric Garcetti and County Supervisor Zev Yaroslavsky to veteran thrill seekers and upstart adventurers.
But what's proven especially gratifying to organizers is the less heralded success of their strategy to get buy-in from Elysian Valley residents.
"We told them, 'We want you to feel comfortable. We're not excluding you. We're including you. ' It was my job to make sure they felt comfortable and welcomed," said MRCA Chief Ranger Fernando Gomez.  
Among other things, Gomez said, the MRCA, which managed the project on behalf of the City of Los Angeles, increased the number of rangers in the area and told them to enforce such park rules as no overnight camping, drinking or smoking. This quickly gave residents a heightened sense of security in a neighborhood with an engrained gang history. At night, Gomez said, he saw entire families—including a pregnant mom, her husband, son and family dog—walking along the riverbank's bike path.
"That's something I never would have seen 10 or 15 years ago. Back then, if people were out, they were up to no good," said Gomez, who patrolled the area as a rookie ranger. "These families have stepped up and said: 'This is our backyard.' "
Another turning point came when Appleton's company started to organize "community paddle" evenings for locals, many of whom couldn't afford the kayak tours ranging in price from $55 to $65, offered by Appleton and a competing company. In all, there were three events, which took place between 4 p.m. and 7 p.m. The final one drew a crowd of 70 residents.
Appleton said one of his best memories of those evenings was of a woman who'd lived along the river her entire life but had never ventured into the water, not even as a kid. "It was on her bucket list," Appleton said. Although she tumbled five times into the calm and shallow waters in front of Marsh Park, she was having such a good time that, unlike other residents, she wouldn't relinquish her boat.
"It was occupied the entire three hours," Appleton recalled admiringly. "She just wouldn't get out."
"Initially people in the community were skeptical" of the recreation zone, said Appleton, who began canoeing as a youngster in Michigan. "But those events really helped turn things around."
Ranger Gomez was more effusive: "The community was ecstatic about it."
Come next summer, river advocates hope the Glendale Narrows recreation zone will be back and embraced by the community—along with some changes for the next wave of kayakers.
Among other things, Gomez said, it would be helpful to have a second exit along the 2.5 mile zone so novice kayakers, weary from paddling or navigating rocks, can get out sooner. What's more, he said he'd recommend removing some rocks in difficult passages to create "a little alley or lane that doesn't alter the river in any shape or form" so frustrated kayakers don't have to work so hard. "For a quarter of a mile, I don't think the world would end downstream."
Like Appleton, the ranger of 20 years has a memory that he also says he'll treasure of the recreation zone's inaugural season. His is of a young boy, around 12, who works as a "junior ranger" and is always quiet— "just a follower," in the words of one MRCA colleague.
The youngster was the last down to the water. When he got into the boat, Gomez said, "he clenched his teeth and was literally started shaking with fear. I said, 'Hi Buddy. I'm going to help you out.  I'm going to teach you how to paddle—right, left, right, left. Not only did he learn about the river, he learned the skill of kayaking. By the end of the trip, he was racing other kids."
Gomez paused at the memory. "I'm getting chills thinking about it," he said.
Elysian Valley activist and entrepreneur Steven Appleton takes some neighborhood youngsters for a paddle.
Posted 9/6/13
Where summer lingers after Labor Day
Lance Wichmann says he finds serenity on the Santa Monica sand when the crowds disappear in September.
Lance Wichmann's playpen was a patch of warm sand at the foot of Ocean Park Boulevard. His family's Santa Monica house was less than a block from the beach, and his mom started carrying him there before he could walk.
Today, more than seven decades later, you can still find Wichmann at that same spot, sunning himself in retirement, a few tentative steps from the shoreline home that remains in the family. He knows just about everything there is to know about beach life around lifeguard station 26, which draws some of the heaviest crowds in Southern California during June, July and August.
And one of the things Wichmann knows (besides the best body-surfing breaks) is this: although Labor Day on Monday represents the unofficial end of summer, it's the beginning of a two-month-long, locals-only holiday, when ideal conditions come to the beach—but not the people. The truth is that, unlike other coastal areas throughout the nation, air and sea temperatures here drop an average of only a few degrees between Labor Day and Halloween.
Before long, sea gulls will outnumber people on L.A. beaches, a trend that took off this week.
"It's so much quieter," the 72-year-old former insurance executive said of LA.'s extended summer season of September and October. "I know Santa Monica is a tourist town, but I like it when I can come down here at low tide, when the kids are back in school, and walk along the sand by myself. To me, it's spiritual."
Let the rest of the country use Labor Day as its farewell to summer. Here in L.A., savvy beachgoers know that the occasion actually signals "the start of the beach season," joked county lifeguard Captain Kyle Daniels, who oversees community services and youth programs. In September and October, he says, "the days are warmer, the winds are lighter and the views of Catalina are better."
And the crowds are so much thinner that, after Labor Day, lifeguard stations are staffed every mile or more, rather than every 200 yards. "I don't want to say it's easy," Daniels said of the workload that comes with reduced staffing levels. "But it's less intense."
There are other signs in the bureaucracy that, come this weekend, vacationers are about to vanish.
Carol Baker, a spokesperson for the Department of Beaches and Harbors, offered this post-Labor Day tidbit: the agency's facilities and property maintenance division, which oversees beach restrooms, has just received its last major order of toilet paper and expects to use only 400 cases during the winter months, compared to as many as 1,000 cases during the summer.
When asked about her own favorite beach month, Baker declined to pick a favorite. "I know this will sound like a bubbly cheerleader, but every month at the beach is my favorite." That said, she acknowledged that "some of the best summer days are in the fall."
And that may be particularly true this year because of the fog that has shrouded the coastline during August—or, as Baker calls it, "Fogust." This week saw some of the best weather of the summer, with the weekday visitor count already way down.
"In July, you could barely see the sand, there were so many people," lifeguard Chris Smith said on a brilliant Tuesday afternoon as he kept watch over a couple of body boarders and surfers not far from where Wichmann was working on his tan. "The crowd is non-existent right now."
"It's a secret," he added, "that the beach season is still going strong in October."
Up along the bike path, meanwhile, business was slow enough at Perry's café that chef Robin Hathaway could take a break to talk to a visitor about the post-Labor Day rhythms. "All the locals come down to reclaim their spots," Hathaway said. "People have their routines. It's more health and fitness oriented—running, riding, yoga, skate boarding, surfing."
Of course, if the café had its way, she said with a wink, "summer would last forever."
Lifeguard Chris Smith has a secret: after Labor Day, he says, the beach is at its best.
Posted 8/29/13
Where CBS blackout hits home
Leadora Sutton isn't the only Angeleno who wishes the CBS-Time Warner Cable feud would go away.
In the weeks since Time Warner Cable and CBS began feuding, Leadora Sutton has been having technical difficulties in her daily life. 
"My main show is '60 Minutes' and I miss it terribly," complains Sutton, 84, whose Westside senior apartment house—like much of Los Angeles—is served by Time Warner.  "And I can't get 'Family Feud', which I like to watch at 6 o'clock as I eat dinner. It's a silly show, but I relax with it. And now it's gone because we can't get Channel 9."
Sutton isn't the only cable customer who wishes her regularly scheduled programming would resume already. As the ongoing contract dispute between the two media behemoths entered its third week and federal officials fired off letters urging the companies to settle their differences, some 3 million customers this week remained caught in the middle of the argument over their distribution deal.
Lots of folks are annoyed, but nowhere is the aggravation more pronounced than among seniors, who've long been the network's most loyal fans.  Their screen-happy kids and grandkids may not miss it so much, what with their binge-watching back episodes of "Breaking Bad" on Netflix, or getting their comedy fix via YouTube on their phones. But for this crowd, losing CBS—with the most mature audience of the four major networks and an average viewer age of almost 57—is like losing an old friend.
"TV is an amazing issue with seniors," says Doug Cope, director of operations for the Menorah Housing Foundation, which oversees 18 low-income apartment buildings for seniors throughout Los Angeles County, including Sutton's. "If people start missing their programs," he says, "you hear from them." 
Since August 2, Time Warner has been blocking out CBS in a standoff over how much the cable giant will pay the network to carry CBS-owned stations in Los Angeles, New York and Dallas. For subscribers here, that has meant not only the absence of popular shows such as "60 Minutes", "NCIS" and "The Big Bang Theory," but also the blackout of CBS-owned stations such as Showtime and KCAL Channel 9, which—crucially, in this winning season—airs the Los Angeles Dodgers. 
"It's not a life-or-death thing for the people I've heard from," jokes Robert Miret, manager of the Zev Yaroslavsky Apartments where Sutton lives near Westwood. But, he notes, he is part of another contingent that is increasingly resenting the blackout—sports fans. "So for me . . . "
Miret was among thousands this month who missed the Dodgers game against the St. Louis Cardinals because KCAL was dark on his home television. The blackout continued this week as the Dodgers played the New York Mets—again, only for non-Time Warner viewers. And, Miret notes, football season is about to begin.
For his tenants, however, the irritation has more to do with the interruption of daily habits. Though the complex also offers satellite dish and basic antenna hookups, many of the tenants have chosen the option they're most used to, which is cable. And, he notes, many can't switch because the basic antenna hookup is only for high-definition TV, and most of the tenants own older models.
So they're stuck, he says, and even those who own computers don't see television the way their grandchildren see it, as just one screen among many. For their generation, and even for many of their children, TV is also a marker of time and a companion. And retirees tend to watch a lot of it.
"Sometimes I'm not out of the house until three or four in the afternoon, now that I'm not working, and as I'm making lunch, I like to watch the shows," says 67-year-old Sandy Tenenbaum. "I watch 'The Talk', which is very interesting. I watch 'The Doctors', which is a very informative and educational. I watch 'Dr. Phil.' At seven o'clock I watch that 'Insider' gossip show with the celebrities."
Sutton, whose TV now displays Time Warner's negotiating position when she turns to her favorite channel, says she is making do with other shows while her cable company and her favorite network do battle.
"They'll fight it out and it'll be settled in a few weeks," she predicts. (Meanwhile, CBS has stayed on top of its rivals in the ratings, blackout notwithstanding.)
But without her shows to divert her, Sutton says, she made a call the other day to Time Warner, and came away with an interesting tidbit—confirmed this week by sales representatives at the company's online support center.
"Did you know," she asks, "that I can get discounts on my utility bills, my phone bills, even my movie tickets, but my cable company doesn't give a break to senior citizens?"
Bob Miret's fingers are crossed that the blackout will be over in time for football season, in a few weeks.
Posted 8/14/13
Grand patriotism for Independence Day
Workers this week were busy sprucing up downtown's Grand Park for its inaugural 4th of July celebration.
Surrounded by iconic government buildings and carefully planted with diverse flora from around the world, downtown Los Angeles' Grand Park isn't the ideal place for the fiery explosions typical of big Independence Day events. So park staff had to get creative for the upcoming 4th of July Block Party.
"We're kind of limited in the kind of fireworks we can shoot off," said Julia Diamond, Grand Park's programming director. "We have a beautiful park and architecture, so we want to be extra careful."
For the past three months, Diamond and her staff have been meeting regularly with Los Angeles Fire Department officials to come up with a way to have a fireworks show that will still bring plenty of oohs and aahs. Traditional rockets that explode hundreds of feet in the air were ruled out; they leave behind burning shells that require a fallout zone to prevent fires and keep people safe.
Luckily, this is Tinseltown, where special effects and pyrotechnics are serious business. A local company, J.E.M. FX, was tapped to design a display suitable for the venue's first-ever Independence Day celebration.  They plan to use "proximate pyro" effects, designed to dazzle crowds at close range. Ron Smith, vice president of theatrical operations for the company, said the show will be similar to those you'd see at the Super Bowl or a music festival. The lack of big rockets won't make it any less impressive, he said.
"It's more up-close and personal," Smith said. "You can design effects close to the music beats—because it's close to the ground you can choreograph better."
The fiery display will take place on the park's middle block by the Court of Flags. Guests can spread blankets on both sides of the show, either on the grassy block in front of City Hall or the block in front of  The Music Center, where the restored Arthur J. Will Memorial Fountain is located and where most of the night's other entertainment will take place. The fireworks display will last about 10 minutes and use about a thousand different effects.
The brand of pyrotechnics won't be the only non-traditional entertainment. As part of its continuing celebration of L.A.'s diversity, "the park for everyone," as Grand Park bills itself, will avoid things like the 1812 Overture or the pomp of John Philip Sousa. KCRW DJ Anthony Valadez will spin globally-influenced dance music and L.A.-based artists Ethio Cali and Jungle Fire will perform live world music. Young slam poetry stars from Get Lit will perform at the event, too, as they brush up for national competition.
Of course, no outdoor event in L.A. is complete without gourmet food trucks. Game On Gourmet and the Rollin' Rib BBQ Joint will be among the culinary fleet stationed at both ends of the park.
The music starts around 4 p.m. and the pyrotechnics will begin around 9 p.m.  Parking is available at the Music Center and other lots, but the best bet may be to take Metro's Red Line to the Civic Center/Grand Park station. Visitors who bring their TAP transit pass can pick up a free pair of Grand Park sunglasses at the information booth.
For organizers like Diamond, major holiday events like this are an opportunity to realize the park's mission.
"The 4th of July is a chance for Grand Park to fulfill the role it was designed to play in this city," said Diamond. "Grand Park is meant to be the civic heart of L.A."
Posted 6/27/13
Taking a bite out of animal cruelty
Abusers beware: Eva Montes and her crack team in the county animal control department are on the case.
What began 15 years ago simply as a promising job for a struggling single mom of three youngsters, has become a calling. "I am a voice for the animals," says Eva Montes.
Those animals have come in all sizes and shapes, from furry to feathered, but they've suffered a common fate: they've been treated badly by people—sometimes through ignorance, sometimes with malice. And it's not just about the animals.
"Most serial killers started with abusing animals," Montes says, "and we have to put a stop to that early."
Montes belongs to a select squad inside Los Angeles County's Department of Animal Care & Control that investigates the agency's most complex cases of animal neglect and cruelty. Called the Major Case Unit, its seven members tackle everything from highly organized pit bull and cockfighting rings to cat hoarders to single cases of heartbreaking—and criminal—abuse.
On Tuesday, she was among more than a dozen uniformed colleagues picked to represent the department before the Board of Supervisors as part of "Animal Control Officers Appreciation Week in Los Angeles County." While the agency is best known for its shelter system and efforts to find adoptive homes for animals, the largely unsung detective work of its Major Case Unit, or MCU, is central to the agency's mandate.
"By our very mission, we're charged with protecting the public and protecting animals," says Deputy Director Aaron Reyes, who oversees the unit. "One of the best ways we can do that is to investigate crimes of cruelty, abuse, neglect and illegal animal fighting."
Reyes says the MCU was created more than a decade ago when it became clear that the massive volume of calls handled by animal control officers was preventing them from undertaking sustained and difficult investigations. Until last year, the MCU had been based in the original "pound master's house" at the department's first-ever facility, which opened in Downey in 1946. But Reyes says he thought it was crucial to get the team's members "onto the front lines" and base them in various shelters, where they could initiate investigations more quickly and share their expertise and insights with other officers.
The idea to scatter the team was not met with enthusiasm.
"We were against it," recalls Montes, who's been in the unit for nearly three years. "We hung out together. We were family. But it's worked out better." Since being assigned to the Carson Animal Care Center, Montes says, she's found potential abuse cases "that were slipping through the cracks" because some officers were not creative enough in their investigations or sufficiently trained to spot signs of less obvious abuse or neglect when people were bringing dogs to the shelter.
Since last July, Montes says she has, for the first time, initiated a number of investigations of people who've brought dogs to the facility, including a woman who recently turned in a pit bull that looked like it had been used for fighting. A warrant for her arrest was recently issued. Last November, Montes was instrumental in a joint investigation with the SPCA Los Angeles that led to a long list of cruelty charges filed by the district attorney's office against the owner of a Gardena guard dog business.
Being assigned fulltime to the Carson shelter, which serves some of southern Los Angeles County's most impoverished neighborhoods, has been a culture shock for Montes. Before her promotion to the MCU, she spent nine years in the county's Agoura Animal Care Center, high in the mountains above Malibu. She calls it "the Club Med of shelters." The dogs, she says, are mostly of the "frou-frou" variety, and volunteerism is robust, something for which she'll always be grateful on a very personal level. During Montes' tenure there, her 14-year-old daughter died from a form of bone cancer. Volunteers built a misting system to keep the animals cooler during the summer months and dedicated it with a plaque in honor of Montes' daughter, Jessica.
"She really respected my job," Montes says of her girl. "If she could only see me now."
In contrast to the Agoura shelter, Montes' current assignment has exposed her to some of the meanest dogs and toughest owners in the department's jurisdiction, a swath of southern Los Angeles County where "gang members represent themselves with their dogs." Sometimes, she says, packs of "dominant breed" dogs such as Rottweilers and pit bulls roam the streets. "It's scary," she says. "I worry about getting bit and never being able to work again."
Montes says she's received cooperation during her neighborhood investigations but has been told by some male officers that they've encountered resistance when responding to complaints, being warned: "Get off my property or I'll shoot you."
One of Montes' colleagues in the Major Case Unit is Armando Ferrufino, who, like her, also works in the southern part of the county. An expert on cockfighting, he's assigned to the Downey Animal Care Center. And like Montes, he also feels as though he's a voice for the animals.
He tells the story of a man who, for months, allowed his Rottweiler, Duke, to deteriorate into a mass of tumors and sores, refusing to seek medical help despite the animal's obvious suffering. Acting on a tip, animal control officers rescued Duke, but he was too far gone to save.
"I felt like the spirit of the animal was telling me to do the right thing, to investigate and get the whole truth," Ferrufino says. "And I did." The owner was charged with a felony and sentenced to three months in county jail.
Ferrufino, who joined the MCU in 2009, says one of the most sensitive assignments involves animal hoarders, mostly lonely elderly people whose homes are filled with scores of cats, a good number of them ailing. "In their mind," Ferrufino says, "they believe they are doing the right thing—showing them love—but it gets to the point where they can't take care of them."
If the neglect is severe, he says, then charges are pursued. Authorities also provide referrals for counseling. What's more, the county has a program to help clean homes after animals have been removed during often tearful negotiations with owners. "It's an illness," Ferrufino says. "They're not aware they're doing something wrong."
As difficult and wrenching as the work can be, Ferrufino says, he's found his calling, too.
"Every day I come to work, I'm happy," he says. "You don't know what's going to happen next, from hoarders to horses to cockfights."
Montes agrees. "Some people like to stay in the shelter environment. But I saw other officers out there getting justice and I said: 'That's what I want to do.' "
Eva Montes and fellow investigator Armando Ferrufino. Both say they are voices for abused animals.
Posted 4/12/13
Vote and help spread a cool $1 million
One of the MyLA2050 candidates envisions "ValhalLA," an off-the-grid artists' habitat.
The candidates are out there, stumping for votes, inundating inboxes, taking to Twitter and Facebook to spread their messages.
No, we're not talking about a certain upcoming mayoral election—although, like that contest, the outcome of this one could have ramifications for the future of Los Angeles.
This hotly-contested race is called MyLA2050, and the candidates, all 279 of them, are vying for a piece of a $1 million pot that aims to underwrite 10 of the best ideas for changing life here for the better.
It's crowdsourcing with a conscience. And to scroll through the entries is to peer into the idealistic, entrepreneurial, only-in-L.A. psyche of a metropolis in transition.
Want to support a door-to-door urban composting program?
Underwrite a rolling neighborly Potluck Truck?
Jumpstart an off-the-grid, self-sustainable artists' habitat called ValhalLA?
Here's your chance to cast a vote—and just one, according to the rules—for the project that captures your imagination, or your heart. While public voting won't directly award any money, it will determine the top 10 vote-getters in the eight categories from which winners will be chosen by the Goldhirsh Foundation, which is sponsoring the initiative. (The categories are education, environmental quality, health, social connectedness, art and cultural vitality, income and employment, housing and public safety.) Two other "wild card" projects will be selected as well—regardless of whether they receive popular acclaim. Each of the 10 winners will receive $100,000 to implement their idea.
On social media, the politicking is getting fast and furious as the voting deadline—high noon on April 17—approaches.
"HoneyLovers! Can you spare 30 seconds to help us out? We are in the running for a $100,000 GRANT to help make Los Angeles PESTICIDE FREE! We would LOVELOVELOVE your support! PS—You do not need to live in Los Angeles to vote for us so spread the buzzzzz!!!" read one appeal on Facebook from the beekeeping-promoting HoneyLove (aiming for a "Pesticide-Free Los Angeles 2050.")
And that's far from the only get-out-the-vote effort going. "We are gaining momentum in the voting. We are not there yet," said a recent post on behalf of the Potluck Truck candidate from Project Food Los Angeles. "One of our members is counting on this grant to tell her father to back off the consistent pressure to get a real job! A victory here would be a strong validation of the power of ideas…we think it's a good one! Please VOTE!"
Some, like the Eagle Rock Yacht club, which promotes dodgeball as a gateway to youth education programs, are offering incentives: folks who vote for the project get $10 off the $45 fee for the organization's spring leagues.
Fallen Fruit's "Endless Orchard" envisions fruit trees and mirrors combining to make an art project full of contrasts.
In the midst of the all the competing appeals, however, some would-be voters seem stymied by the contest rules, like one who recently asked on Facebook: "Am I the only one who finds this confusing? Can we vote for one each in multiple categories? Or just for one? I have so many friends who are competing for this!"
Others have run into frustration because the voting website won't open on older versions of Internet Explorer. (Contest organizers suggest using Firefox or Chrome browsers.)
"At first it was kind of nail-biting because I'm very passionate about the idea and I wanted everybody to hear about it. I was blasting it out there," said Courtney Carter, who's promoting the ValhalLA artists' habitat. She said she's been checking the contest leader board "like every second" to see how her entry is faring with the voting public.
Vivian Liao of City Earthworm, who's behind "You Can Compost That!" has also been an energetic stumper.
"I do a lot of Facebook and Twitter campaigning. Obviously, there's a lot of friends-and-family bugging," she said. "I'm blogging about this also."
It's understandable that some people are having a hard time choosing which program to back. There are entries from famous institutions like the county Natural History Museum (proposing an Urban Safari program to "discover and document" the biodiversity of the L.A. Basin) and candidates from tiny outfits like HoneyLove. Naomi Ackerman's Advot Project seeks to change the lives and relationships of teenagers through theater and dramatic exercises. Community Builders Resource Network wants to bring charitable organizations together for greater impact.
Some contenders grew out of established success stories, like the heartwarming international video sensation Caine's Arcade, or L.A.'s favorite car-free rolling block party, CicLAvia. Others are more niche ("Beautiful Rain Barrels in Public Places.") Some are big ("The Million Reusable Bag Giveaway"), some are small ("Park-in-a-box"), some sound like poems ("Endless Orchard") and some sound like they're on a mission ("Empowering Teens with the Knowledge and Skills to Make Healthy Decisions.")
There are concepts for apps and maps and pop-ups. Garden-related ideas are huge, and there are a number of proposals advancing new, socially-conscious purposes for food trucks. The Los Angeles River figures in at least two: A temporary summer riverfront park and an Elysian Park "swimming pool/industrial cistern" to be used as a public plunge.
And like any campaign, there are the catchy slogans and exhortations: "Kids who sling kale eat kale,""Dodgeball, prosperity and the Common Good," "State of the art lighting for city parks!"
The contest is part of a broader initiative, sponsored by philanthropist and GOOD magazine founder Ben Goldhirsh, to rethink the future of L.A. A report—"Los Angeles 2050: Who we are. How we live. Where we're going."—was released in February, with the aim of stimulating "an outbreak of idealism that strengthens civic engagement, challenges the status quo, and demands more for the future of Los Angeles."
Shauna Nep, a social innovation manager on the project, said the contest is a way to bring more attention to the findings in the report and to "create a more participatory and transparent process" for tackling some of the challenges it explored.
The $1 million derby brought out a wide range of entrants, she said—"a lot we were familiar with, and some we'd never heard of before."
And, while it has not received much attention in the mainstream media, she noted that it has been a lively topic on blogs and social media networks.
"We're overwhelmed," she said.
Meanwhile, don't worry that you'll have to wait around till 2050 to see your favorite innovations take shape. The rules call for all the winning projects to be implemented this year.
HoneyLove, a pair of urban beekeeping enthusiasts, wants to make L.A. pesticide-free.
Posted 4/11/13
Dry time for county's new storm boss
Meet L.A. County's storm boss, Michele Chimienti. Rainfall's been light during her first winter on the job. Photo/Public Works
If this was a normal year, water would soon be gushing from the Los Angeles County dam system's reservoirs. It would be surging down rivers and channels, rushing into spreading grounds to be filtered and recycled, and flowing through wildlife habitats where it would sustain plants and animals through the long, hot summer.
But this is not a normal year.
For the second season in a row, winter storms have largely bypassed Los Angeles County and much of California. Local rainfall levels so far have reached only 37% of normal levels, and prospects for the kind of sustained, heavy rain required to make up the difference seem increasingly unlikely. (The storm that's been forecast for this weekend isn't expected to do much to bring county reservoirs—now holding just 5.5% of what they'd stockpile in a normal year—back up to where they should be.)
What's more, a "new normal" seems to be emerging. Just ask Michele Chimienti, the county's new "storm boss."
"We're seeing more of the high-highs and the low-lows. Nothing's really normal. There's no average," said Chimienti, a county Public Works engineer who, since October, has been in charge of operations for the department's water resources section. "You have one extreme or the other. Like in 2005, we had our historic wet year. That's obviously an extreme. Then we had a dry year last year."
For consumers, such extremes can be a pocketbook issue, with water rates going up and conservation programs aimed at lowering outdoor water use being heavily promoted—from "Cash for Grass" to "ocean-friendly" gardening.
High and dry above Cogswell Dam. Photo/Public Works
For the water pros, the seasonal extremes are a challenge to business as usual. As hanging onto every possible drop of rainwater becomes increasingly crucial in Southern California, Public Works is accelerating its efforts to modernize and expand water retention capabilities throughout the region. (A list of completed and upcoming projects is here. Such efforts also are a central element in the proposed Clean Water, Clean Beaches parcel tax; the Los Angeles County Board of Supervisors has asked for more details on the measure before deciding whether to place it before voters next year.)
And for those like Chimienti on the frontlines of storm water management, the dry spell has posed its own kinds of challenges—of the lonely Maytag repairman variety.
"I actually would have loved it if we'd had a wet season. That's what we thrive on," Chimienti said. "It does get a little frustrating when we have dry year upon dry year."
Still, she and her team are using the time in which they'd ordinarily be controlling and diverting fast-moving stormwater to make needed repairs and upgrades to the system.
"This is our downtime right now because it has been such a slow storm season," she said, "so we're looking toward the future: what can we do to improve our water conservation in all of our facilities?"
Even though she hit a dry patch in her first winter on the job, the 40-year-old Chimienti has seen plenty of storm activity in years gone by.
"You can volunteer for storm duty, and I did that for the past six, seven years," she said. "It's a good way to learn the facilities. You see the river. You see how it reacts. You get a good idea of the amounts of water, the quantity of flow that's coming down. You get to learn the names of all the flood maintenance guys who actually do this day in and day out, run up and down the rivers, making sure people are out of the flow when water's coming down, making sure it's safe."
Chimienti, the first woman to serve as the county's "storm boss," was named a Top Young Leader last year by the American Public Works Association, testament to her work in her previous assignment: project engineer on the $100 million Big Tujunga Dam retrofit.
The work on "Big T," as the dam is affectionately dubbed within Public Works, focused primarily on bringing the facility up to modern seismic safety standards. But an added benefit was that a reinforced reservoir could hold—and hang onto—much more water in the wet years.
"We're able to conserve an additional 4,500 acre feet a year," Chimienti said. (An acre foot is approximately 326,000 gallons.)
That kind of capacity is crucial when the amounts of rainfall vary so widely from year to year. As for what's behind the variations, Adam Walden, senior civil engineer in Public Work's water resources division, said they might be attributable to climate change but "we don't know for sure."
"What is known is that, in recent years, we are seeing extremes in L.A. County's rainfall," according to Walden. "We have had both the wettest year on record (40.5 inches in 2004-2005 season) and the driest year on record (3.6 inches in 2006-2007 season.)"
And that, Chimienti said, means it always makes sense to conserve.
"Don't waste it," she said. "It is a vital natural resource, and it's not limitless."
Effects of dry winter are visible at county's Cogswell Dam in the San Gabriel Mountains. Photo/Public Works
Posted 3/27/13
« Previous Page — Next Page »